Take, for example, the VR Arles Festival website. Notice how they draw your attention to their navigation bar by having it overlap two columns.
Another practical use of the grid breaking layout is to use it to overlay text on an image in such a way to pull attention to the copy. When a webpage completely overlays text on an image, it can often be lost. However, as you can see from the example below, if the text partially overlaps the picture, it stands out a lot more.
The downside of grid-breaking layouts is that they are hard to get right, especially when websites need to be responsive. In truth, most grid-breaking designs are nothing of the sort. There is still an underlying grid, and all screen elements fit into it. It is just that the grid is much more complex and so it is not so obvious. That makes them hard to design.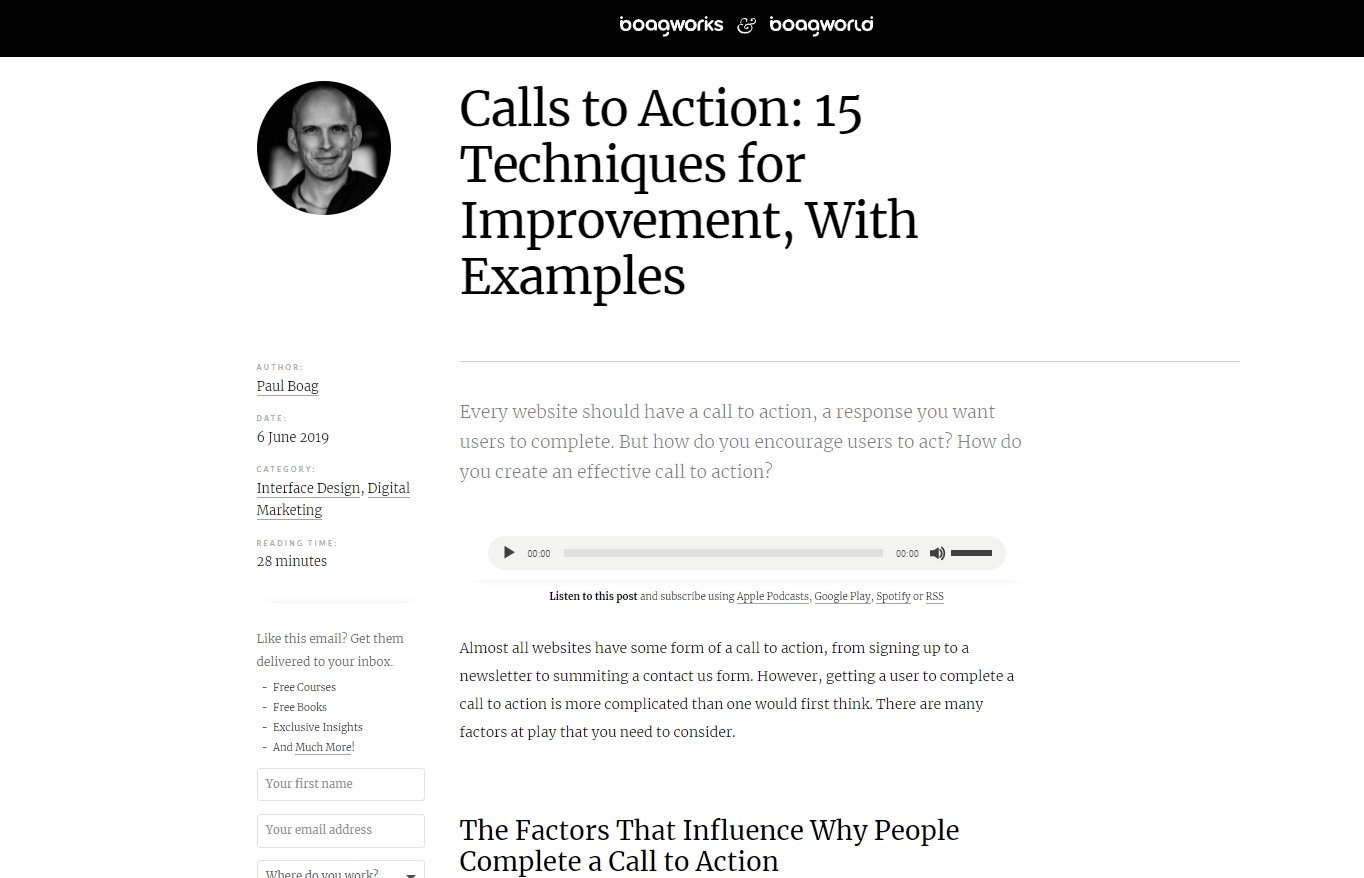 Single Column Layout
Although the most uncomplicated layout you will find, it has grown significantly in popularity since the growth of the mobile web. That is because the website can use the same design on mobile devices, tablets, and desktops, reducing development time.
Also, single-column layouts work well for creating a great reading experience because it focuses the user on the content with no distractions to either side. That is why blogging site Medium adopts it for all their articles.
Finally, when combined with imagery, a single column layout can make a powerful impact because it allows you to show those images as large as possible. The Ocean Resort is a great example of this in action.
With these factors in mind, consider using a single column layout if you want people to spend a lot of time reading on your site or if you have imagery that needs the room to shine.
Also, think about how you can keep the user scrolling down the page. Single column layouts tend to be longer, and it is not always apparent to the user that there is more content below the fold. A visual indicator, such as an arrow can help.
Diker Bau Website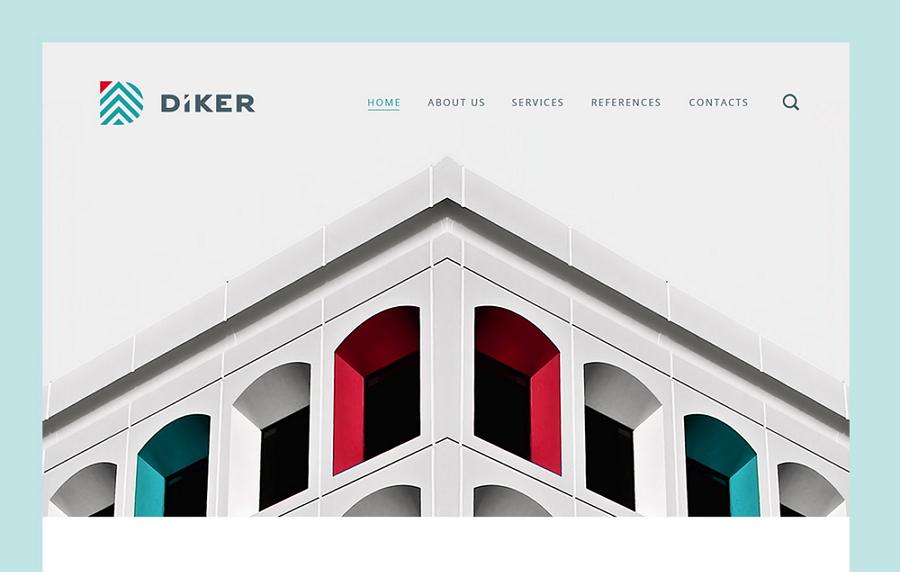 Diker is a Group of Construction and Architecture+Planning companies based in Berlin, Germany. The designer outlined the major characteristics and attributes of the brand identity. These were used as the basis for the overall website structure and architecture. Modern coding and testing techniques were used to ensure the usability of the website.
Images provide an opportunity to create an emotional connection with visitors — a big, bold photograph or illustration of an object makes a strong statement and creates a stunning first impression. This layout is great when you need to demonstrate only one product/service and focus a user's attention on it. If you want to design a site that can sell a product fast, then use this type of layout.
Chekhov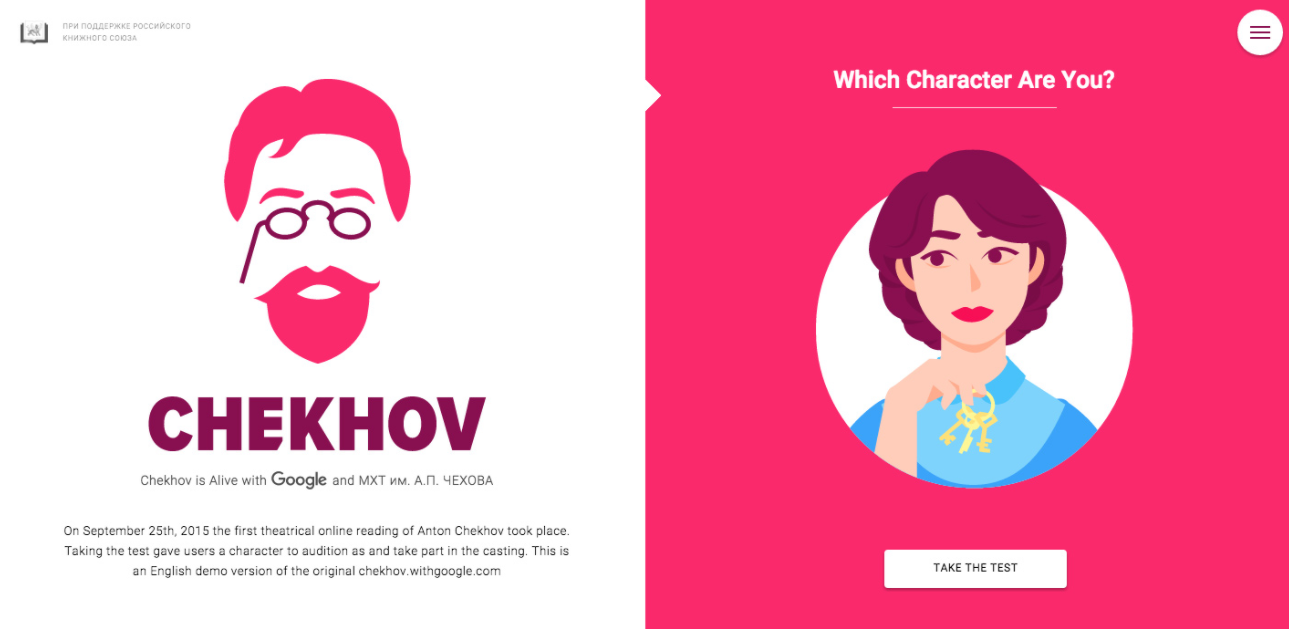 Chekhov uses a split-screen layout, giving two equal pieces of content the same importance. By putting two items side by side, the designer creates contrast, which acts as a great attraction grabber. The combination of bright colors and animations creates and provides users with a rich and dynamic experience. If your site needs to offer two drastically different variations of the user journey, then you might try to use the split-screen layout. But do avoid using too much content in split sections. Split-screen designs do not expand as well as content grows. Therefore, it's better not to use this type of layout if you need to provide a lot of textual or visual information in split sections.
How to choose the right website layout
Accommodate your content
The layout you choose should be fitting for your type of content. Why? A website layout needs to help tell the story you wish to deliver to visitors. Hence, choose one whose arrangement will enhance and support your message.
Some types of website layouts are best used for showcasing products or works, making them more suitable for online stores or portfolio websites. Others convey factual information quickly and efficiently, and might work better for creating a blog or news platform.
Use common layouts
While there's room for creativity, the most well-known, tried-and-tested website layouts are usually the best option. These classic layouts tend to feel familiar to users, as they build on existing expectations, past experiences and the principles of design.
Since a familiar layout will result in a more intuitive, easy-to-use interface, we've highlighted 10 of the most effective and widespread website layout ideas below. We'll explain what makes them work and which type of website is the best fit for each.
10 best website layout ideas
01. Z-pattern layout
When coming across a new webpage, we immediately glance over it to take in the gist of things. This speedy scan, called skim reading, is often done in the shape of the letter Z or in zig-zag form. Our eyes move from the top left corner to the top right corner, then down to the bottom left, and finally to the right again. The Z-pattern website layout utilizes this reading habit by spreading important information across a Z shape.
Using this layout, a logo is usually placed in the upper left-hand corner of the homepage, so that it registers first. Across from it, in the rightmost corner, it's common to place the navigation menu along with a prominent call-to-action.
The diagonal part of the Z-pattern, spanning across the page from top to bottom, is where the most attention-grabbing information should go. This can be achieved by use of captivating visuals and a concise line of text that represents what the website is all about.
Toward the bottom of this Z-pattern, users should find your most important call-to-action (CTA). Whether you've been building up anticipation to purchase a product or book a service, now's the time to get visitors on board and encourage them to take action.
02. F-pattern layout
Much like the Z-pattern layout, this design is also based on a common page scanning behavior. With webpages that are more text-heavy, we tend to skim or read the information in an F shape. This means that the top horizontal part of the page gets the bulk of our attention, and our eyes go vertically downwards from there, with the left-hand side tending to serve as our focal point.
When using the F-pattern layout, make sure to invest resources on the top fold of your page, where visitors are likely to linger longer. This usually includes a headline, subtitle and featured image—content that can introduce the remainder of the site in a compelling manner. You can also include anchor texts to lead visitors towards information and a navigation menu to guide them to the parts of your website that are most relevant.
The vertical line of the F-pattern on the left-hand side of the page can help make the text more appealing. This can be done using imagery, icons, or with formatting elements such as bullet points or numbering.
03. Fullscreen image layout
With an extra large visual placed front-and-center, a fullscreen image layout can result in an eye-catching and immersive homepage design. Large media features can convey a lot about who you are and what you do in as much as a glimpse. The great thing about this layout is that it looks great on mobile devices, too.
The visual you use can be anything from a photograph to an illustration or video. Either way, it should be high quality and relevant to your service, product or overall feel in order to take full advantage of this layout.
Your fullscreen image should also be accompanied by a short line of text to further explain what the site is all about. Craft a strong header or a catchy slogan to introduce what you offer as a business, exciting visitors to explore more.
A fullscreen image layout is great for businesses that want to highlight a specific niche or product and who have great visuals in their arsenal of marketing assets. For example, photography websites will proudly reveal new series or styles of photographs for sale, while a wedding website can make a heartwarming impression with a photo of the happy couple.
04. Split screen layout
By vertically splitting the screen down the middle, a split screen layout creates a perfectly symmetrical balance. This neat division into two parts allows for each section to express an entirely different idea—or alternatively, to support one idea from two different angles.
The website layout template shown here presents a dining experience with an eye-catching visual to the left, and text and matching vector art to the right. The layout enables both sides to fully complement each other, rather than compete for attention. This same design can also work well in cases where site visitors are asked to choose between two opposing options, such as 'Men's' and 'Women's' categories in an eCommerce website.
Sources:
https://websitesetup.org/website-layouts/
https://www.mockplus.com/blog/post/website-layout-example
https://www.wix.com/blog/2020/02/website-layouts/
Website layout
In this case, the layout implies spreading up content upon a full-screen photo/image. Thus, text sections or menu sections are there to support the "living" image. Good to use for websites that want to immediately anchor the subject of a site in the mind of a visitor.
What is a website layout?
A website layout is a pattern (or framework) that defines a website's structure. It has the role of structuring the information present on a site both for the website's owner and for users. It provides clear paths for navigation within web pages and puts the most important elements of a website front and center.
Website layouts define the content hierarchy, regardless of whether or not you're learning how to start a blog or building a simple website for your small business. Content will guide visitors around the website, and it must convey your message as well as possible to them.
Why should you choose one layout over another?
To spend a fruitful time selecting a layout design, it's important to get familiar with some basic notions related to website layouts. We've gathered a bunch of concepts that'll help you get oriented into the abundance of predefined website layouts.
Visual weight and negative space
Visual weight is perceived by people when some objects on the website carry a stronger visual force. This visual force can be induced in specific elements through different techniques. Amongst them, negative space is the one that interests us directly here.
The space between the black square and the white squares directs the eyes to the left-hand element. But the left-hand element is outweighed by the 4 smaller white squares. The black square carries a stronger visual force.
Balanced website layouts
In balanced web design, the elements that make up the layout are supporting one another so that the user sees the text content with equal importance. In addition, the elements are easily scannable in a layout that efficiently presents them all. The design gives the impression of stability, and it feels really pleasing, from the aesthetic point of view.
One of the most popular balanced designs is symmetrical balance, where, similar to a mirror image, a visual element will look the same on either side of the center. Symmetry evokes balance, elegance, and pleasure. You've probably felt it too when looking at the architecture of some buildings, gardens, and even at the wings of a butterfly.
Sections for specific audiences or features
Arrangements of elements that can be changed meaning that users can easily switch to other website sections. To help you figure out how this is possible, we suggest you think about fashion websites addressing both men and women.
The layout supports 2 distinctive sections within the website, one dedicated to apparel for men, the other dedicated to apparel for women. The layout split serves functional content, highly useful for the 2 distinctive target audiences.
Go outside the standard layouts
Whereas some layouts follow the traditional path, with an aim at serving functionality at its best, other layouts use daring designs and structures, with the purpose of making an impact on the user. Breaking the mold means unexpected arrangements of the elements within the web page, and the experiences it triggers stand out in a sea of standard websites, that a user can't help but remember your website.
Create Visual Tension for Eye-Catching Stimulating Layouts
In web design, visual tension strains the users' attention by focusing it on key points of the website. Visual tension comes out by contrasts of space, color or luminosity, and it is easily noticeable if interwoven in a perfect overall balance of elements.
Use focal points to draw attention to certain elements
A call-to-action button can be a focal point. An image can be a focal point. Headings can also be focal points. It all depends on how they integrate into the website layout, so they become the biggest points of interest on a website, that capture a user's attention.
Due to focal points, you'll have your users half-way to conversion (whatever "conversion" might be for your particular website) – users will concentrate their attention on those focal points and are more inclined to take the action you want them to take.
Design layouts that accomplish website goals
It's a best practice that, before starting to design a layout/to browse through layout templates, you should define what the website goals are. They might be to sell products, gather traffic, or simply enchant users with some piece of art. The website layout should be chosen based on the website goals. It will trigger certain users' behaviors that lead to completing those goals.
Layouts that tell a story
Design the layout/search for a layout so that it molds onto the message you have to transmit. Section areas should come together to tell a complete story. Each element in this chain is another chapter in your story.
Asymmetrical layout
Asymmetry is the lack of equality between two sides of the layout. Asymmetry is a long-time favorite technique in the art world and has recently become popular among designers when creating website layouts.
Many people confuse asymmetry with imbalance but, in fact, the goal of asymmetry is to create a balance when it's either impossible or not desirable to use equal weight for two sections. Using asymmetry makes it possible to create tension and dynamism, and asymmetry facilitates better scanning behavior by focusing a user's attention on individual objects (focal points).
When to use it
This type of web layout can be used when designers want to create interesting and unexpected layouts, while still providing directional emphasis. Appropriately applied, asymmetry can create active space that guides the eye from one element to another, even across emptiness. Consider how Dropbox clearly shows points of focus in the example below.
Design tips
Responsive HTML templates For Landing Pages
A landing template can be unique, made for a food company, or photography resources. Finding and an idea and tools can be quite challenging. For example, how can you create a responsive Shopify theme or woocommerce themes, add a form responsive element or a simple contact form, launch a free html5 project, or hosting portfolio? Our biggest collection of HTML CSS examples will allow you to start a fully responsive template you love similar to modern elementor. If you do web projects, you know that free responsive samples are beneficial. If you create an eCommerce WordPress theme for a clothing store or products website with a blog online, you will start by looking for a solution kits elementor usually offers a start to sell online. Even such topics as dental care require use as minimum as responsive bootstrap designs. For that, you can use creative web pages coming with premium themes always suitable for multipurpose eCommerce online stores. You can pick the website template with specific pages, a static site or an online blog store, or a jewelry Shopify site or themes web with a shopping cart.
Assume that your store responsive pages or portfolio variants, a creative directory containing various options, and other functions that bring data science into eCommerce themes using best practices and available free online.
Sources:
https://colibriwp.com/blog/website-layout-design-ideas/
https://xd.adobe.com/ideas/principles/web-design/11-website-layouts-that-made-content-shine-in-2019/
https://nicepage.com/website-templates
Website layout
Their team of designers and thinkers are across every project, so you can buzz them for help and they're on!. They love what we do and get a real kick out of helping people make positive change and beautiful design. If not ready for a specific project, at least you can learn from their creative website.
10 Rock Solid Website Layout Examples
Layout can both be one of the easiest and one of the trickiest facets of web design. Sometimes a designer can bust out an amazing layout in minutes and sometimes that same designer can struggle for the better part of day with the same task.
2 Million+ Digital Assets, With Unlimited Downloads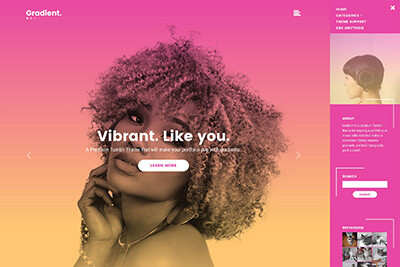 CMS Templates
Shopify, Tumblr & More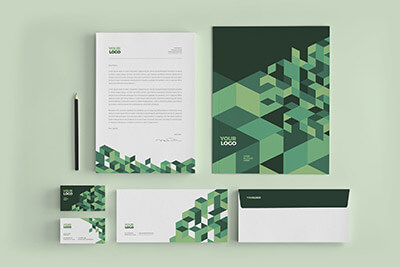 Graphic Templates
Logos, Print & Mockups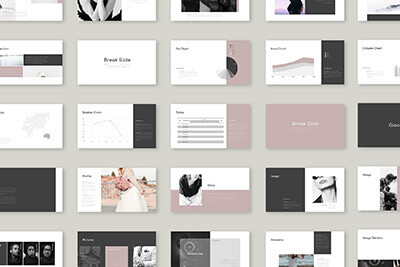 Presentation Templates
PowerPoint & Keynote
Bialek
Another cool website layout comes from Bialek. The company specializes in the sale of furnishings, prefabricated interior construction, and supporting services to commercial, government, education, and healthcare clients.
A WBENC-certified woman-owned small business, our reputation for providing outstanding products, design, project management and on-going service to our clients is second to none. For 25 years, Bialek has been an authorized Herman Miller Dealer, becoming the top dealer for Herman Miller in healthcare or government sales time and time again.
Envato Elements
The subscription costs $29 per month and gives you unlimited access to a massive and growing library of 29,000+ items that can be downloaded as often as you need, interesting inspiration if you are looking to improve your skills of how to design a website.
A-dam Underwear
A unique not-for-profit organization located in the Adelaide city center and at Seppeltsfield in the Barossa, JamFactory is supported by the South Australian Government and is recognized globally as a center for excellence. You can also add it to the list of good websites example, with its elegant website outline.
JamFactory's purpose-built studios for ceramics, glass, furniture, jewelry and metal design provide skills and business training for artists and designers through a rigorous two-year Associate training program.
WHO NEEDS WEB DESIGN INSPIRATIONS?
User Interfaces Inspirations for UX Designers
If you're tasked with creating the user experience (UX) design elements of a website and are anything like us, you'll want to have access to a huge audience and be able to test every single part of your design as much as you can. While this is the ideal scenario, the truth is it's very rare we get that luxury.
However, by using our collection of web designs to inspire you, you can find your spark from sites proven to deliver an outstanding UX, then tweak the design to fit what you need, whether you're an in-house, agency, or freelance UX designer.
UX Design Inspirations for Agencies
If you're a web design, development, or digital marketing agency, then you might have clients all over the world in a variety of industries. When it comes to suggesting new website designs for your clients or pitching design projects to them, it pays to have access to as many potential design options as possible, and for those designs to be at the cutting edge of modern design and following the latest trends that users and search engines love.
Webbesign inspirations for Developers
That may already be the case, but if you're a developer looking to help your clients with design, our website could be a real gamechanger for you. Why not use our collection of inspirational web designs to offer solutions to your clients without needing them to go through lengthy and expensive design projects first? Then all you need to do is build it for them!
Web Design Trends for Design Students
Design qualifications are immense fun to attain but require a significant amount of work and creativity on your part. Whether you're completing a general qualification or are doing a design course about something specific such as web design or user experience design, having all our chosen design ideas at your fingertips can be a massive benefit.
Whether you simply need to come up with a specific style of design or need to produce a case study of how to effectively use contrasts and calls to action, you'll find designs that can help you on your way to top marks!
Website design ideas for Entrepreneurs
Being an entrepreneur is incredibly exciting, not to mention incredibly demanding on your time. As such, you probably don't have the time to spend hours talking to designers or managing developers to ensure your website is 100% how you want it. If you're a prolific entrepreneur, you might even find yourself needing to build several websites at a time!
That's where we come in! With our collection of web designs, you can easily put your hands on the ideal website for your needs, whether you're looking to rebrand a current business or need something to help you launch a new venture.
New Websites Inspirations for Founders
Started a new business, or got a fantastic idea but not the first clue about how to communicate your idea and sell your products online? If that sounds like you, then we're exactly the website you've been looking for!
At Web Design Inspiration, we appreciate that millions of people around the world have the potential to start amazing businesses. We also know that many of them won't know the first thing about web design or have the budget to invest in a costly design and development project.
Whether you have an idea for what you want your business website to look like or need inspiration on starting everything from scratch, including your brand identity, use our designs to help you with whatever you need!
WHAT ARE THE MAIN FEATURES OF WEB DESIGN INSPIRATION?
Finding inspiration for your next website design isn't just about saving time and money on your next design and development project. Of course, you do enjoy those benefits, but you can also take advantage of a wealth of additional features and opportunities to ensure you get the exact style of website to meet your needs.
Benchmarking
We know that when browsing through our website, you're not simply going to find one design and decide that's the one for you. It wouldn't be smart to take that approach, either. Instead, you're more likely to spend time gathering your favourite web designs before deciding on the one you want to use.
This is where benchmarking comes in, allowing you to compare your chosen designs against each other, not to mention against your current website, if you have one, and your competitors' websites that you want to make sure your site is better than. Whether you want to compare the design styles used, the use of color, or get an idea of the effectiveness of the available calls to action, we'll put you on track to decide with confidence on the right design to meet your needs.
Design Trends
Here at Web Design Inspiration, you can choose to search for websites by the type of website you're looking to create, the style of website you'd prefer, or look for website designs based on what other websites in your industry are already using. By searching for your next website by checking out our different styles of design, this enables you to focus on specific UX features like scroll or single page design.
Stay Ahead of the Curve
At Web Design Inspiration, we're always on the lookout for the freshest and most relevant designs to help you stay ahead of the curve and your competition when it comes to the appearance of your website. While you shouldn't look to update your website too often, if you're not refreshing your online identity every two to three years then you'll quickly fall behind the latest trends and soon have a site that looks tired and outdated.
Who is Web Design Inspiration designed for?
Our website is for anyone who is looking to build a website or app and needs inspiration when it comes to taking care of the design. Whether you're a design agency with clients across a variety of industries, a freelance developer looking to expand your horizons, or a marketing manager looking for inspiration for an in-house redesign, you'll find loads of fantastic ideas, right here.
How do I use one of the designs I find?
You don't need to do anything in terms of dealing with us! Once you've found the design that is going to inspire your next website or app design, you're free to go away and use it! Talk to your developer – or find the relevant template if it's something like a WordPress website – about what you want, make the tweaks you need, and you're ready to go!
What types of business can use one of your web designs?
Any business can use our collection of web designs to get inspired. If you're not sure where to start, you can search for designs used by other businesses in your industry, then improve them to make your site stand out and be even better! Simply find your industry in our filters and take a look at what the leading brands in your niche are already doing.
How can I search for suitable web designs?
You have several options when it comes to finding suitable website designs for your business. While you're free to just browse our site or check out our Editor's Picks, we've also arranged our collection of websites by website type, style, industry, and color, to make it easy for you to find the perfect website to match your needs.
What if you don't have any web designs suited for my business?
We'll definitely have a web design for your business! If you find yourself looking through the relevant category for your industry but don't see anything you like or that you think will fit your brand, don't worry! Who says you have to use a design used by another business in your niche? Doing something different may even make it easier for you to stand out against your competitors!
What are the Editor's Picks?
Our Editor's Picks are a collection of our favourite and most recent designs, brought together in one place! If you're looking for your new website or app design to be at the forefront of your industry and want to maximise use of the latest design trends, check out our Editor's Picks to see what's happening!
How do I save my favorite designs?
Seeing lots of designs you love and want to keep track of them? Simply create an account here at Web Design Inspiration, and you can save your favorite designs, add them to lists, and share them with your team if you need to collaborate when making a decision on your new design. All our designs are also clickable so you can visit the live website to look around and share with your team.
Sources:
https://designshack.net/articles/layouts/10-rock-solid-website-layout-examples/
https://www.designyourway.net/drb/modern-website-layout-designs-for-inspiration-22-examples/
https://www.webdesign-inspiration.com/